Permian Basin Information 
According to the Railroad Commission of Texas: The Permian Basin is an oil-and-gas-producing area located in West Texas and the adjoining area of southeastern New Mexico. The Permian Basin covers an area approximately 250 miles wide and 300 miles long and is composed of more than 7,000 fields (best represented in Railroad Commission of Texas production figures as districts 7C, 08, and 8A) in West Texas.
Various producing formations such as the Yates, San Andres, Clear Fork, Spraberry, Wolfcamp, Yeso, Bone Spring, Avalon, Canyon, Morrow, Devonian, and Ellenberger are all part of the Permian Basin, with oil and natural gas production depths ranging from a few hundred feet to five miles below the surface.
Other areas within the greater Permian Basin include the Delaware Basin and Midland Basin. The Delaware Basin includes significant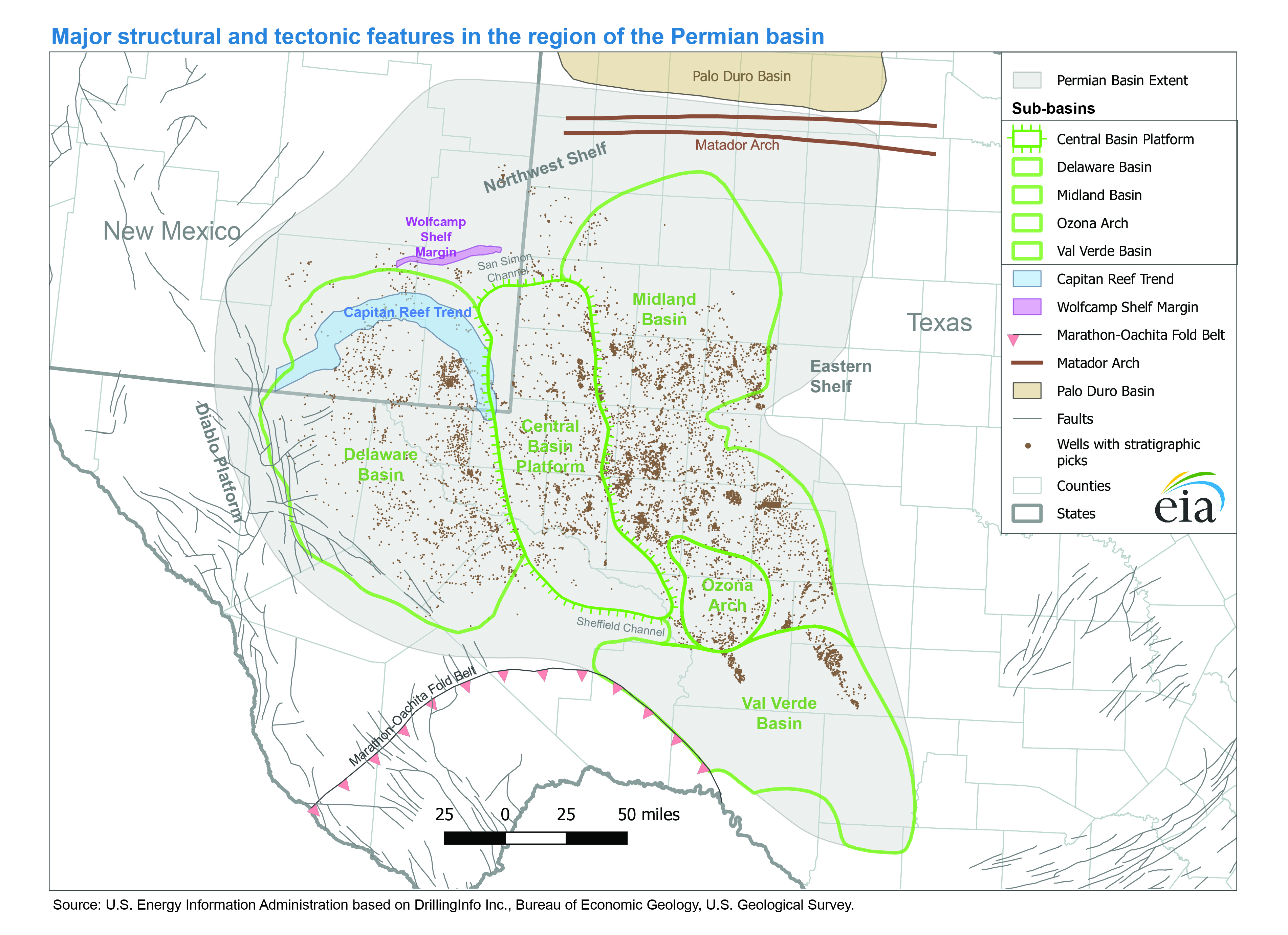 development in the Bone Spring and Wolfcamp, together known as the Wolfbone. The Midland Basin includes significant development in the Spraberry and Wolfcamp, together known as the Wolfberry. Recent increased use of enhanced-recovery practices in the Permian Basin has resulted in a substantial impact on U.S. oil production.
Texas Counties in Permian Basin: Andrews; Bailey; Borden; Brewster; Cochran; Coke; Concho; Cottle; Crane; Crockett; Crosby; Culberson; Dawson; Dickens; Ector; Edwards; El Paso; Fisher; Floyd; Gaines; Garza; Glasscock; Hale; Hockley; Howard; Hudspeth; Irion; Jeff Davis; Kent; Kimble; King; Lamb; Loving; Lubbock; Lynn; Martin; Menard; McCulloch; Midland; Mitchell; Motley; Nolan; Pecos; Presidio; Reagan; Real; Reeves; Runnels; Schleicher; Scurry; Sterling; Stonewall; Sutton; Terrell; Terry; Tom Green; Upton; Val Verde; Ward; Winkler; Yoakum
Permian Basin Top 10 Operators 2016
OIL
Rank Operator Name Crude Oil (BBL)
1 PIONEER NATURAL RES. USA, INC. 59,359,738
2 OCCIDENTAL PERMIAN LTD. 42,697,587
3 APACHE CORPORATION 30,098,087
4 XTO ENERGY INC. 25,279,187
5 COG OPERATING LLC 20,336,309
6 OXY USA WTP LP 19,121,487
7 KINDER MORGAN PRODUCTION CO LLC 18,647,309
8 ENERGEN RESOURCES CORPORATION 16,483,466
9 CHEVRON U. S. A. INC. 16,283,952
10 ENCANA OIL & GAS(USA) INC. 14,047,502
GAS
Rank Operator Name Total Gas (MCF)
1 PIONEER NATURAL RES. USA, INC. 118,457,785
2 APACHE CORPORATION 116,698,106
3 COG OPERATING LLC 97,078,060
4 CIMAREX ENERGY CO. 96,287,736
5 ANADARKO E&P ONSHORE LLC 80,434,523
6 XTO ENERGY INC. 77,279,750
7 OCCIDENTAL PERMIAN LTD. 64,127,631
8 KINDER MORGAN PRODUCTION CO LLC 63,542,367
9 LAREDO PETROLEUM, INC. 56,942,940
10 CHEVRON U. S. A. INC. 50,670,957
CONDENSATE
Rank Operator Name Condensate (BBL)
1 CIMAREX ENERGY CO. 6,107,851
2 BHP BILLITON PET(TXLA OP) CO 5,470,119
3 ANADARKO E&P ONSHORE LLC 3,206,013
4 CAPITAN ENERGY, INCORPORATED 2,742,205
5 COG OPERATING LLC 2,159,287
6 CONOCOPHILLIPS COMPANY 1,368,801
7 MEWBOURNE OIL COMPANY 685,231
8 ENDURANCE RESOURCES LLC 309,715
9 CARRIZO (PERMIAN) LLC 275,268
10 TEMA OIL AND GAS COMPANY 163,686